Publications
Re-Education Revisited: Conflicting Agendas and Cross-Cultural Agency in the Early Cold War. Spec. Issue of Comparativ 31.1 (2021)
Ed. by Heike Paul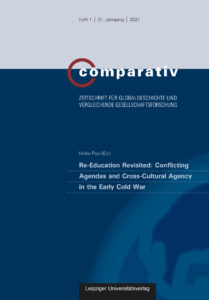 with contributions by Jana Aresin, Katharina Gerund, Akino Oshiro, Heike Paul, Fabian Schäfer, Michiko Takeuchi, and a conversation with Susan Carruthers and Mire Koikari
https://www.comparativ.net/v2/issue/view/164
Reviewed by Steffen Gnam in Frankfurter Allgemeine Zeitung 15.06.2022
"Debatte um Nürnberger Opernhaus:
Wie schmeckt der Pausensekt in NS-Ruinen?" (21.12.2021) & "

Gastkommentar: 
Nürnberg braucht den Regenbogen" (3.11.2020)

by Marie-Louise Monrad Møller und Fabian Schäfer
<https://www.monopol-magazin.de/autoren/marie-louise-monrad-moller-und-fabian-schäfer>
New Perspectives on Transatlantic Relations: Multidisciplinary Approaches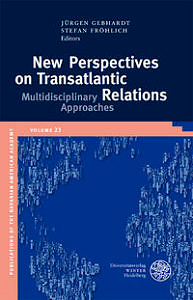 Ed. by Jürgen Gebhardt and Stefan Fröhlich
Heidelberg: Winter, 2021.
with a contribution by Jana Aresin ("Revisiting Stunde Null: The Impact of U.S. Reeducation Policies in Post-War Germany on Transatlantic Relations," pp. 71)
The post-World War II order of an Atlantic West based on common values emerged from a complex, conflict-ridden Atlantic history and established itself as a powerful actor in world politics. This volume critically addresses the topics, processes, and problems of transatlantic relations from a multi-disciplinary angle, and marked by a worldwide pandemic. It thematizes the political, economic, and cultural dimensions from the seventeenth century to today and reflects them in categories of order and disorder, cooperation and conflict, convergence and divergence to get a deeper understanding of the present critical state of transatlanticism: the American retrenchment and the vanishing American vision of 'world leadership' in terms of 'America First' politics, the respective consequences impacting on the political and military development of the NATO alliance, and the Euro-American relations.
"Reeducation und Reorientation"
by Katharina Gerund
Historisches Lexikon Bayerns, URL: <http://www.historisches-lexikon-bayerns.de/Lexikon/Reeducation_und_Reorientation> (5.08.2020)
German-American Encounters in Bavaria and Beyond, 1945-2015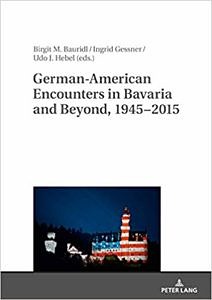 Ed. by Birgit M. Bauridl, Ingrid Gessner, and Udo J. Hebel
Berlin: Peter Lang, 2018.
with contributions by Katharina Gerund ("Transatlantic Romance(s) of the Postwar Years: Interracial Relationships in Die PX-Story (1959) and Transgression (2015)", pp. 147) and Heike Paul ("Abe Meets Alois: Post-1945 Bavarian (Re-)Education", pp. 67)
Rooted in Transnational American Studies, this collection explores German-American encounters in Bavaria since 1945. Spanning a trajectory from the end of World War II to the contemporary American presence in the region, the articles and visuals discuss the impact of the transnational contact zone on negotiations of democratization, historical guilt, cultural diplomacy, identity politics, military cooperation, economic interaction, pop and folk culture, literature, memory, museums, and tourism. Articles on Rhineland-Palatinate, Austria, and the Netherlands signify the complexity of European-American relations. The volume complicates bipolar, solidifying comparative approaches in favor of multidirectional, fluid conceptualizations of intercultural transfer and transnational entanglements.
Die amerikanische Reeducation-Politik nach 1945: Interdisziplinäre Perspektiven auf "America's Germany"
Ed. by Katharina Gerund and Heike Paul
Bielefeld: transcript, 2015.
Series: Histoire 55
Dieser Band beleuchtet die amerikanischen Pläne zur Zukunft Deutschlands nach dem Zweiten Weltkrieg. Im Mittelpunkt stehen die Maßnahmen der Reeducation-Politik, u.a. Amerika-Häuser, Dokumentarfilme, CARE und Schulreformen. Wissenschaftler_innen aus verschiedenen Disziplinen analysieren amerikanische Perspektiven auf die Deutschen und die Strategien der USA zur Positionierung Deutschlands als junge Demokratie am Beginn einer neuen Zeitrechnung ("Stunde Null"), als Teil einer größeren geopolitischen Konstellation (Europa) und als zunehmend eigenständige Nation im transatlantischen Bündnis ("Kalter Krieg").
Mit einem Nachwort von Winfried Fluck.
Public Opinion, Propaganda, Ideology: Theories on the Press and Its Social Function in Interwar Japan, 1918-1937

Fabian Schäfer
Leiden: Brill, 2012.
Series: Brill's Japanese Studies Library, Volume: 39
As early as prewar Japan, thinkers of various intellectual proveniences had begun discussing the most important topics of contemporary media and communication studies, such as ways to define the social function of the press, journalism and the formation of public opinion. In Public Opinion – Propaganda – Ideology, light is particularly shed on press scholar Ono Hideo, his disciple the sociologist and propaganda researcher Koyama Eizō, Marxist philosopher Tosaka Jun and sociologist and postwar intellectual Shimizu Ikutarō. Besides introducing the different approaches of the aforementioned figures, this book also contextualizes the early discursive space of Japanese media and communication studies within global contexts from three perspectives of transnational intellectual history, i.e. adaptation reciprocities and parallels.